Whether you are new to the Sikeston area or have lived here your whole life, Leadership Sikeston will help you discover what is happening in our community and how you can get involved.
Leadership Sikeston is a program designed to empower members of our community with the tools, experiences and network to become our future leaders. 
The eight, full day sessions are typically held the second Thursday of each month from March to October. Session layouts may vary but will consist of active panel discussions, educational speakers, exciting tours, and meaningful group interaction. Established community leaders and professionals from area organizations and industry will participate in class sessions with the goal to inspire and provoke new thoughts and ideas. Tuition is $500 for Chamber members or $600 for non-members.
Space is limited to be considered for the 2024 Leadership Sikeston Class. Please check back in January for the 2024 application. 
Sikeston Young Professionals
What we're all about:
Sikeston Young Professionals is a collective group of business professionals, ages 21-40ish who are interested in and focused on the betterment of ourselves and the Sikeston Region. Sessions are typically held on Thursdays and begin at 4:30pm.  Annual Membership is $75 for Chamber members or $100 for non-Chamber members.
Connect. Develop. Serve.
Meetings are focused on the areas of: Connection, through networking and social events. Development, through educational speakers/sessions. Serving  by supporting philanthropic efforts in our community.
Join SYP! Contact taylor.deere@sikeston.net for more details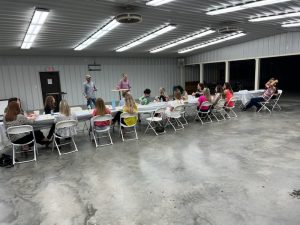 An Ambassador acts as the public relations arm of the Chamber by attending and working at various Chamber functions and events; staying informed and participating in the programs and projects of the Chamber; relating these programs and projects to members of the business community.
Ambassadors meet every other month and assist with new Chamber Member onboarding.
Students Observing Area Resources (S.O.A.R.)
The Sikeston Career and Technology Center, Sikeston High School, Alternative Education Center and the Sikeston Regional Chamber and Area Economic Development Corporation have teamed up to offer this leadership program for area students.
SOAR is an engaging program developed specifically for Sikeston High School students to realize potential career opportunities Sikeston has to offer as well as make connections within the community to fulfill a prosperous future.

ACT Work Ready Community Certification is a nationally recognized program used to empower states, regions and counties with data, processes and tools that drive economic growth. Participants are leveraging the ACT® WorkKeys® National Career Readiness Certificate® (NCRC®) to measure and close the skills gap — and building common frameworks that link, align and match their workforce development efforts.