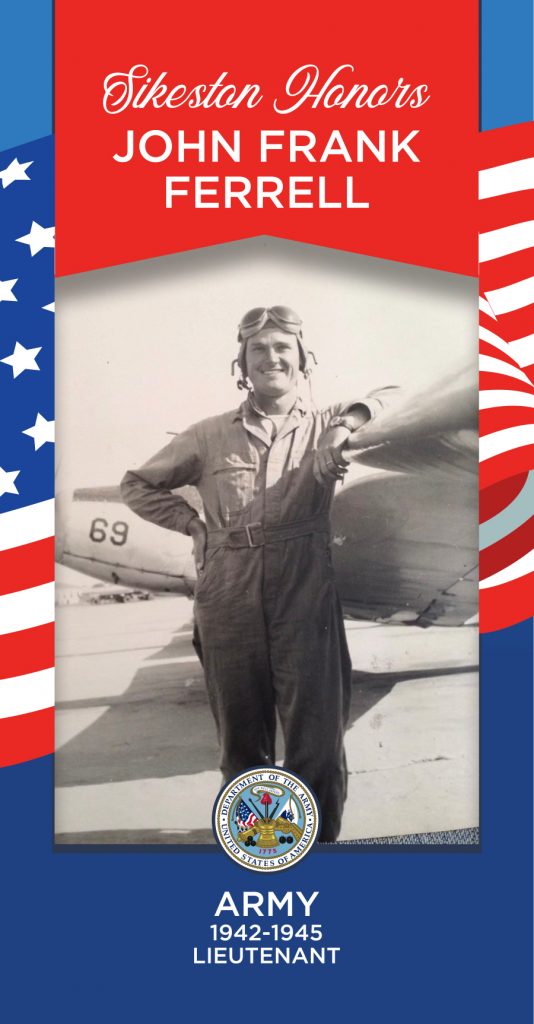 John "Frank" Ferrell joined the Army to become a pilot. He grew up working at what would become Harvey Parks Pilot Training School. After completing the program at Sikeston on June 26, 1944, he went on to Butler University for advanced training and was commissioned as a Second Lieutenant. Lieutenant Ferrell trained in the B17, B25, and B29 programs and became an instructor. Ferrell was shipped to Seattle and deployed to Saipan when the Atomic Bombs were dropped ending the war. Frank returned after his discharge to Sikeston where he raised his family and began his successful career. He was involved in Sikeston in all facets and served as Mayor. Frank was a founding member and very instrumental in the development of Sikeston Veterans Park.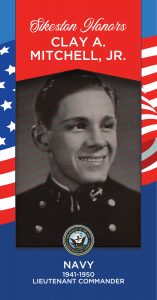 LCDR Clay A. Mitchell Jr. was a 1941 graduate of the Naval Academy. His class was the first of the wartime-accelerated classes. As a naval aviator, Clay participated in campaigns from Guadalcanal to the Gilberts and Marshall Islands. LCDR Mitchell was killed Aug 4, 1950, when the AD Sky Raider he was piloting collided with another over the Atlantic near Mayport FL during a training exercise.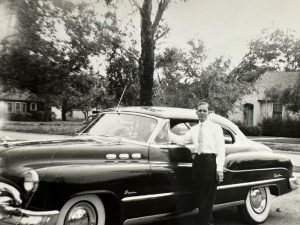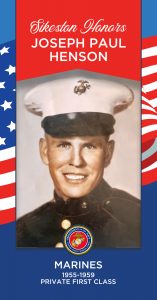 Joseph Paul Henson joined the Marine Corps in 1955. Following bootcamp at MCRD San Diego, he served as an Engineer Equipment Operator, MOS 1345 for four years until his discharge in 1959. The Marine Corps would define his character and Mr. Henson passed along his admiration for the Corps to his three sons, who all served with pride in the US Marine Corps.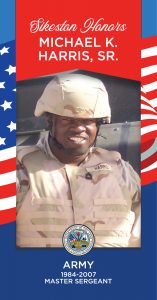 Michael K. Harris, Sr. served in the Missouri Army National Guard from 1984-2007. In 2005 took part in Operation Iraqi Freedom. He was the NCO in charge U.S. Army Corps of Engineers near Bagdad, Iraq. He was the recipient of the Bronze Star Medal, Iraqi Freedom Campaign Medal, and Combat Action Badge. Mr. Harris has served on the Sikeston City Council 2001-2010. He is Pastor of Open-Door Fellowship Ministries, and a member of numerous military and civic groups. Michael Harris was inducted into the Missouri Veterans Hall of Fame in 2022.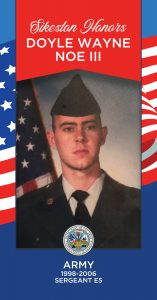 Doyle Wayne Noe joined the U.S. Army National Guard in 1998. In 2004 his unit was called to serve on active duty as part of Operation Iraqi Freedom. He was stationed in Iraq for a year. Before being discharged, he was in a Humvee accident in Iraq. He was honorably discharged in June 2006. Dr. Noe received the Driver Badge, Army Lapel Button, Army Achievement Medal, National Defense Service Medal, Global War on Terrorism Service Medal, Global War on Terrorism Expeditionary Medal, Armed Forces Reserve Medal, and Army Service Ribbon.  As Sikeston High School Principal, Dr. Noe has organized and assisted in the Veterans Day Assembly for the past 5 years.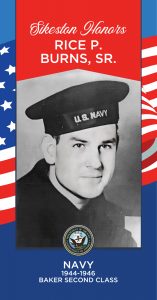 Rice "Pete" Burns, Sr. enlisted in the U.S. Navy on Feb 29, 1944. He received basic training at the USNTC Great Lakes, IL. He served on the U.S.S. Pickaway (APA-222) during his years of service in the Navy during World War II in the Pacific Area. The U.S.S. Pickaway was an Amphibious Attack Transport launched in 1944. Rice "Pete" Burns was a Baker Second Class and also operated one of the ship's guns. The U.S.S. Pickaway saw action at Iwo Jima and evacuated Marine forces who were finishing off the remaining Japanese forces on the island. Rice Burns & the U.S.S. Pickaway also participated in amphibious exercises in Guam, the Russell Islands, and Guadalcanal. He received the Victory Medal, American Area Campaign Medal, and the Asiatic Pacific Area Campaign Medal (1-star). He was honorably discharged on May 23, 1946. He passed away in 2006 having lived in Sikeston for 46 years.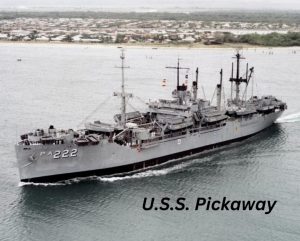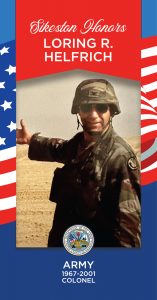 Dr. Loring Helfrich served in the U.S. Army Medical Corps from September 1967 until July 2001. He served on active duty at Ft. Leonard Wood, Missouri. In 1991 he served in Operation Desert Storm Kuwait/Saudi Arabia as Colonel of the 807th Surgical Hospital.  Dr. Helfrich received the Meritorious Service Medal (1973-1976), the Army Commendation Medal (1983-1986), VII Corps: Certificate of Commendation Saudi Arabia, the Bronze Star Medal in1991, the Army Commendation Medal in 1994, Eastern Castle in 1994, and the Meritorious Service Medal (1994-1995). Dr. Helfrich returned to Sikeston and is a surgeon at Missouri Delta Medical Center.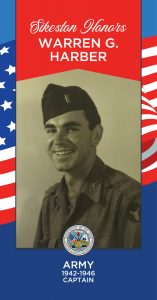 Warren Harber was born July 14, 1922, growing up on a farm in New Madrid County. He graduated valedictorian of his class from Matthews High School and taught at Fairview Rural School until 1942. He was inducted into the US. Army training at Ft. Wolters, Ft. Benning, and Camp Wheeler. He became a 2nd Lieutenant in the U.S. Army Infantry and was deployed for 2 years in Italy. During his combat tour, he was the recipient of the 3 Bronze Stars and the Combat Infantry Badge. He was honorably discharged with the rank of Captain in May 1946. Warren returned to Sikeston where he and his wife Jewel Beck Harber, raised three daughters. He worked for the U.S. Postal Service for 33 years, retiring in 1981. During retirement he remained active in his church and the national Association of Federal Workers until his death in 2019. He is buried, along with his wife at the Missouri State Veterans Cemetery in Bloomfield, Missouri.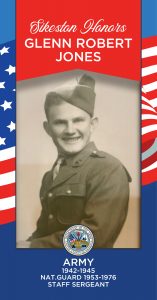 Glenn R. Jones began his military career at age 20 at Jefferson Barracks in 1942. He served as a rifleman in the U.S. Army from 1942-1945. He served in World War II where he was a Purple Heart recipient and also awarded 7 Bronze Stars, Good Conduct & Presidents Unit Citation. Upon his return he served 23 years in the U.S. Army National Guard. Glenn served in battles and campaigns throughout the Tunisian, Rhineland, Sicilian, Central Europe, Naples-Foggia, Rome-Arno and Southern France Campaigns.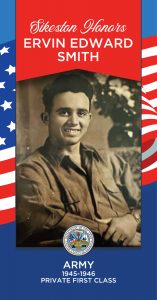 PFC Edward Smith joined the US Army Jan 22, 1945. He served with the 8th Army, 41st Infantry Div. as an infantry rifleman during the Philippine Liberation Campaign in 1945. At the war's end in Aug 1945 Smith was send to Japan as part of the occupation force until Aug 27, 1946. He served the U.S.S. Missouri in Tokeyo Bay after the Japanese surrender on Sept 2, 1945. He received the Good Conduct Medal, Asiatic Pacific Theatre Ribbon, Philippine Liberation Ribbon, Army of Occupation Medal, Japan Victory Medal, 2 Overseas Service Bars. Smith lived in Sikeston most of his life and worked for MODOT until his retirement.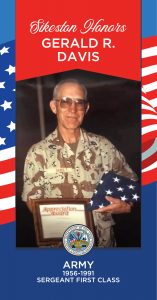 Gerald Davis joined the U.S Air Force out of high school and served in Japan. He left Air Force after 4 years, and then joined the Missouri Army National Guard. Davis served in Operation Desert Storm during the Persian Gulf War and retired after his tour was complete. Gerald received the Army Service Ribbon, Army Reserve Components Achievement, Armed Forces Reserve Medal, Army Reserve Components Overseas Training Ribbon, Non-commissioned Officer Professional Development Ribbon, National Defense Service Medal, and Sharpshooter Qualification Badge.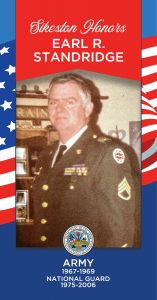 Earl Standridge was drafted into the U.S. Army in 1967. He served in Vietnam from 1968-1969. After being discharged from the Army, Earl joined the Army National Guard retiring in 2006 as Sergeant First Class (E-7). He then joined the Ready Reserve and retired again with a total of 34 years in the military. Standridge was awarded the National Defense Ribbon, Vietnam Service Ribbon, Vietnam Service Medal, Army Service Commendation Medal, 2 overseas tour bars, M-14 Rifle Sharpshooter and M-16 Rifle Marksman.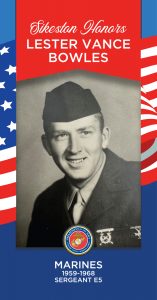 Lester Bowles joined the Marines in 1959 at 18 years of age. He served two tours in the Vietnam War as a helicopter crew chief. He was awarded the National Defense Medal, Vietnamese Service Medal, Vietnamese Campaign Medal, Combat Air Crew Insignia, Air Medal and Good Conduct Medal.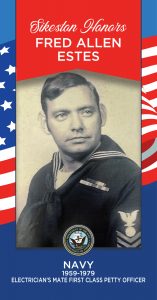 Fred Estes enlisted in the U.S. Navy in 1959 and served 20 years. He served in the Vietnam War for 4 years. He was an Electricians Mate and was responsible for preventing power failures on his ship. He received the National Defense Service Medal, Presidential Unit Citation, Navy Unit Commendation, Meritorious Unit Commendation, Combat Action Ribbon, Vietnam Campaign Medal, Vietnam Service Medal, Vietnam Meritorious, Unit Citation Gallantry Cross and Civil Actions and Fourth Good Conduct Award. After retiring from the military, Fred worked for Sikeston Board of Municipal Utilities for 26 years.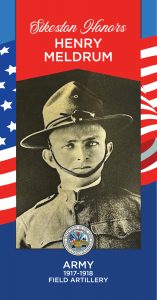 Henry Meldrum served in the 138th Field Artillery 1917-1918 (World War I). He was shot in battle and died in France on Dec 16, 1918. Mr. Meldrum was prominent in the Methodist Church, taking active part in every department. The church held a service in his honor on January 6, 1919. The Sikeston American Legon Post 114 is named after him.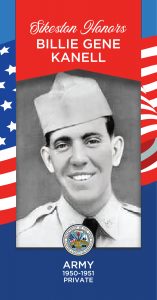 Billie Kanell joined the U.S. Army in 1950. By September 7, 1951, he was serving in Korea as a private in Company I of the 35th Infantry Regiment, 25th Infantry Division. On that day, near Pyongyang, his unit was attacked by a superior force. When a grenade was thrown into his emplacement, he smothered the blast with his body to protect two nearby soldiers. Although severely wounded in the explosion, he used his body to shield his comrades from another grenade thrown several seconds later and was mortally wounded. Kanell was posthumously awarded the U.S. military's highest decoration, the Medal of Honor.
THIS PROGRAM IS MADE POSSOBLE BY SUPPORT FROM THE FOLLOWING BUSINESSES & ORGANIZATIONS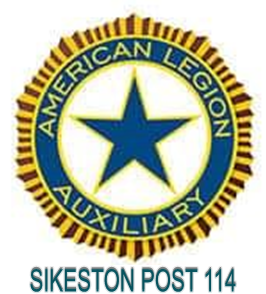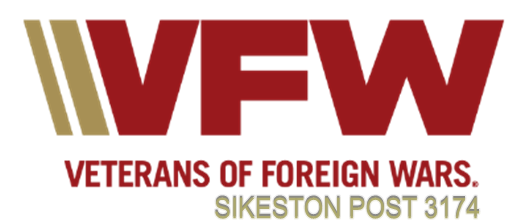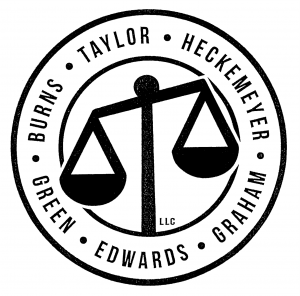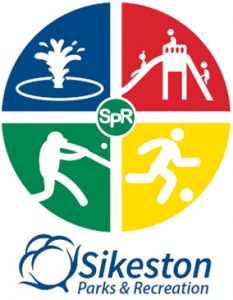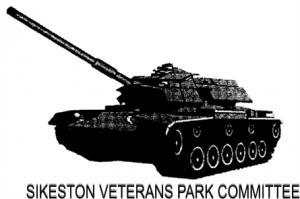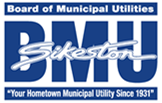 Alan Wire Company - American Legion Post #114 - First State Bank & Trust Company, Inc. - Focus Bank
Food Giant Supermarkets, Inc. - Mitchell Insurance, Inc. - Lloyd & Marlys Smith - Lt. Governor Mike Kehoe
Raymond James Financial Services - Sam's Fine Jewelry - Sikeston Career & Technology Center
Sikeston Lions Club - Sikeston Rotary Club - Steward Steel, Inc
Ultimate Flooring & Paint - Ziegenhorn and Collins Families